Jump Your Hair Hair Spray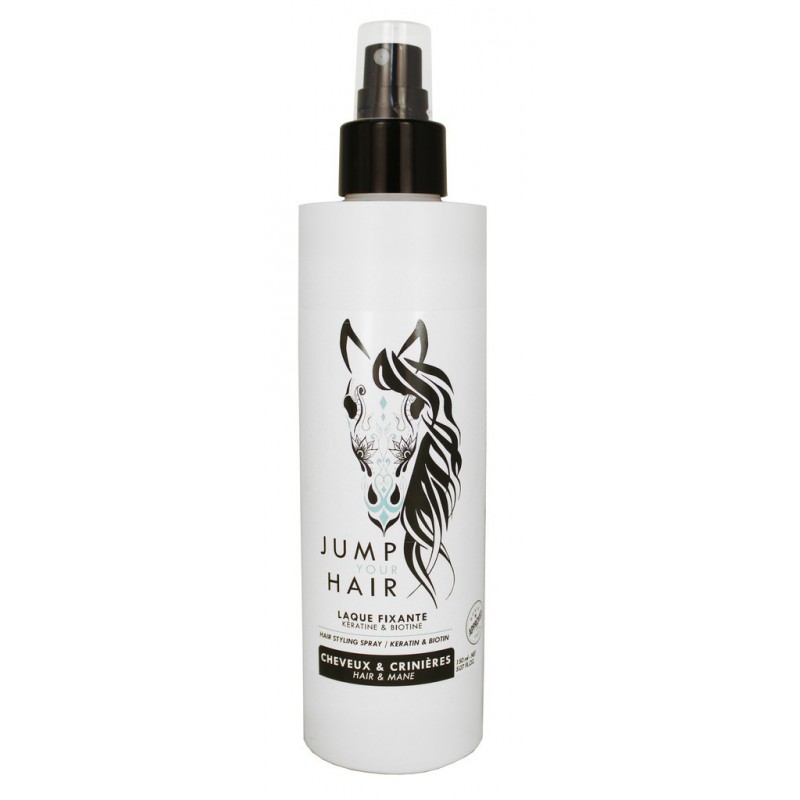 At the heart of our professional formula with a delicate leathery frangrance, the perfect osmosis between two universes.
Like a rider feels at one with his horse: Keratin, hair's protein and Biotin, stables' superstar vitamin.
This styling hair spray styles and takes care of the most beautiful manes in their elegant and stylish shape.
Spray from a distance of 25cm. Washes out easily. Contains alcohol.
Keratin hydrolyzed: keratin micro-protein, it penetrates deeply into Hair & Mane for long lasting repair and restructuring.
Biotin: B7 vitamin that stimulates the growth of Hair & Mane. Thanks to its action on the composition of Keratin, this vitamin helps to make Hair & Mane more flexible, thicker and more mangeable.
Panthenol: B5 Pro-vitamin that deeply and durably moisturizes the Hair & Mane while soothing scalp and skin.
L-pyrrolidone carboxylic acid: moisturizing agent that improves the resistance, softness and shine of Hair & Mane while protecting them from the sun and the wind.
Organic Aloe Vera: leaf juice has anti-irritant, anti-itch, moisturizing and stimulating proprettes.
Arnica Montana: flower extract that helps fight dandruff through its antibacterial properties.
Formula without aerosol gas, respects the health of hairdressers and customers.
MADE IN FRANCE