Havens Slobber-Mash 20kg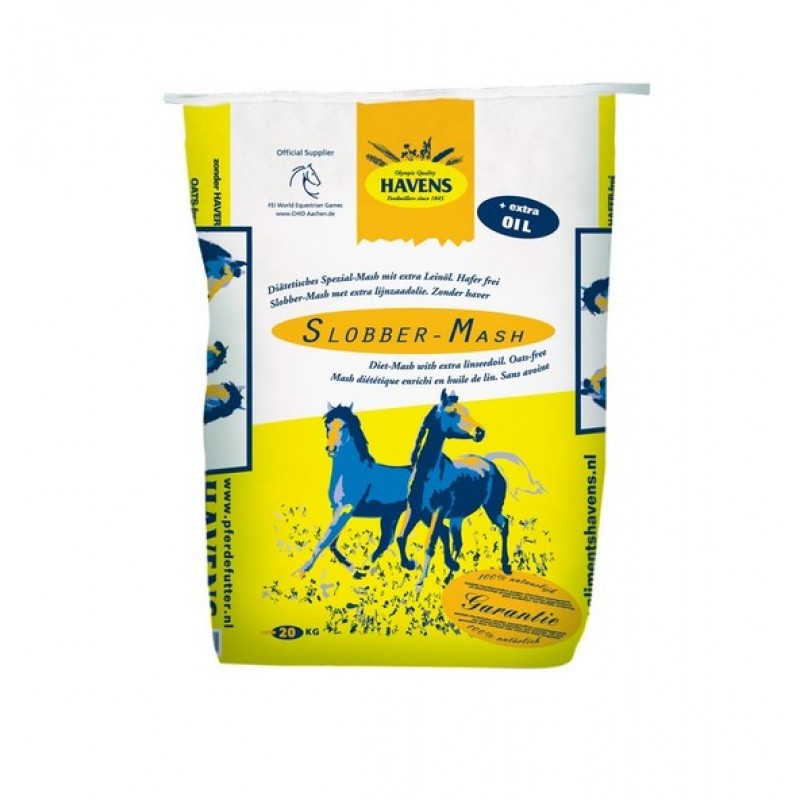 Slobber mash is a very palatable mixture, rich in vitamins and fibers, consisting of flaked cereals,
toasted lineseed, wheatbran and dehydrated alfalfa, completed with extra vitamins and minerals.
Ideal for older horses, hard-keepers or to improve the condition of coat or hoofs. Oat free!
20kg/bag.
Additionally, it contains extra linoleic acids, linseed oil and sunflower seeds.
Slobber-Mash provides support during the moult in autumn and spring. Also recommended for hard-keepers or horses
that have difficulties in maintaining or increasing bodyweight.
Easily absorbable and easily digestible. For extra shiny coat. Supports a healthy bowel movement and is
ideal for older horses, hard-keepers and horses in poor condition.
Best to be used with water (but can also be fed dry). Soak 1 part of Slobber- Mash with 1 part of water for 15-

20 minutes. This way, it can be absorbed easily, also by (older) horses with missing teeth.
It is important to feed a diet and quantity that meets the lifestyle and needs of the horse. A general guideline
for the recommended total amount of concentrates per day:
• For maintenance and basic sport: 0.2 to 0.5 kg per 100 kg bodyweight.
• For (top) sport: 0.5 to 1.0 kg per 100 kg bodyweight.
Divide this daily ration into at least 2-3 meals per day. Always try to feed a minimum of 1.5% of bodyweight as
good quality forage. Fresh drinking water must be available at all times.
To purchase this product outside of the greater Athens (Attica) region, please contact the store.